USX Cyber Helps SBD Elevate Security Posture and
Implement Cybersecurity Before They Needed It
"USX Cyber fortified our business in ways we thought were only available to large businesses. The USX Cyber Managed Extended Detection and Response (Managed XDR) services immediately elevated our security posture. The pandemic completely turned our business model upside down and we had to have a way to ensure adequate controls and protection were in placer for our highly distributed workforce. After seeing everything we are thwarting with USX Cyber's GuardientTM platform, it's amazing we didn't take a major direct hit from would-be attackers previously. We quickly came to appreciate how we have now implemented cybersecurity before it was too little, too late."

–Michael Ewell, Vice President
Solutions By Design II LLC (SBD) is a thriving technology services provider to the U.S. Government, with over 225 staff working across 10 states nationwide. With annualized double digit growth rates, SBD has rapidly ascended from its small business roots to a mature midsize company. Despite being an expert in delivering cyber security services to their Government clients, SBD found itself struggling to keep pace with the rapidly growing number and sophistication of threats. With a lack of internal cyber expertise and limited budget, SBD knew it could not afford to wait any longer to proactively fortify the business against cyber threats. Recognizing that it's no longer a matter of 'if', but 'when' – with risks ranging from non-compliance to loss of productivity to reputational damage … or worse.
Why They Hired Us
Rapidly escalating volume and complexity of cyber attacks. Increased vulnerability to corporate and customer information, amplified by pandemic-driven shift to highly distributed workforce with broad work-from-home adoption. Elevated compliance requirements from Government, including emphasis on protecting supply chain. Scarcity of cybersecurity talent. Increased awareness of business risks, liabilities and understanding of potential adverse impacts on core business via exposure to cyber attacks. These were just the most glaring challenges facing SBD. SBD simply could no longer keep pace with the burgeoning cybersecurity demands upon its management, budget and IT infrastructure. As a midsize business, SBD thought it would have to cut corners and accept uncomfortably high levels of risk in its pursuit of identifying adequate cyber defenses to protect the business.
It's Not Just for the Big Companies
Upon learning the depth and breadth of cybersecurity capabilities available from USX Cyber, SBD was pleasantly surprised to learn that it too could afford the same level of cyber protections as the big guys. With USX Cyber, SBD gets leading-edge cybersecurity, scaled precisely to meet its needs.
Managed XDR Services Delivered with Concierge Touch
USX Cyber partnered with SBD to understand their requirements and responded with a tailored approach to provide Managed XDR services. USX Cyber offered right-sized services via the X3 Managed level of service, with transparent pricing. Services were onboarded seamlessly within 1 week, including deployment of agents, and custom integration with SBD firewalls and cloud workloads. 24×7 immediately identified tens of thousands of potential threats, resulting in automated active response that stopped dozens of live attacks dead in their tracks. USX Cyber established a baseline assessment of SBD's security posture and implemented a road map for continuous improvement.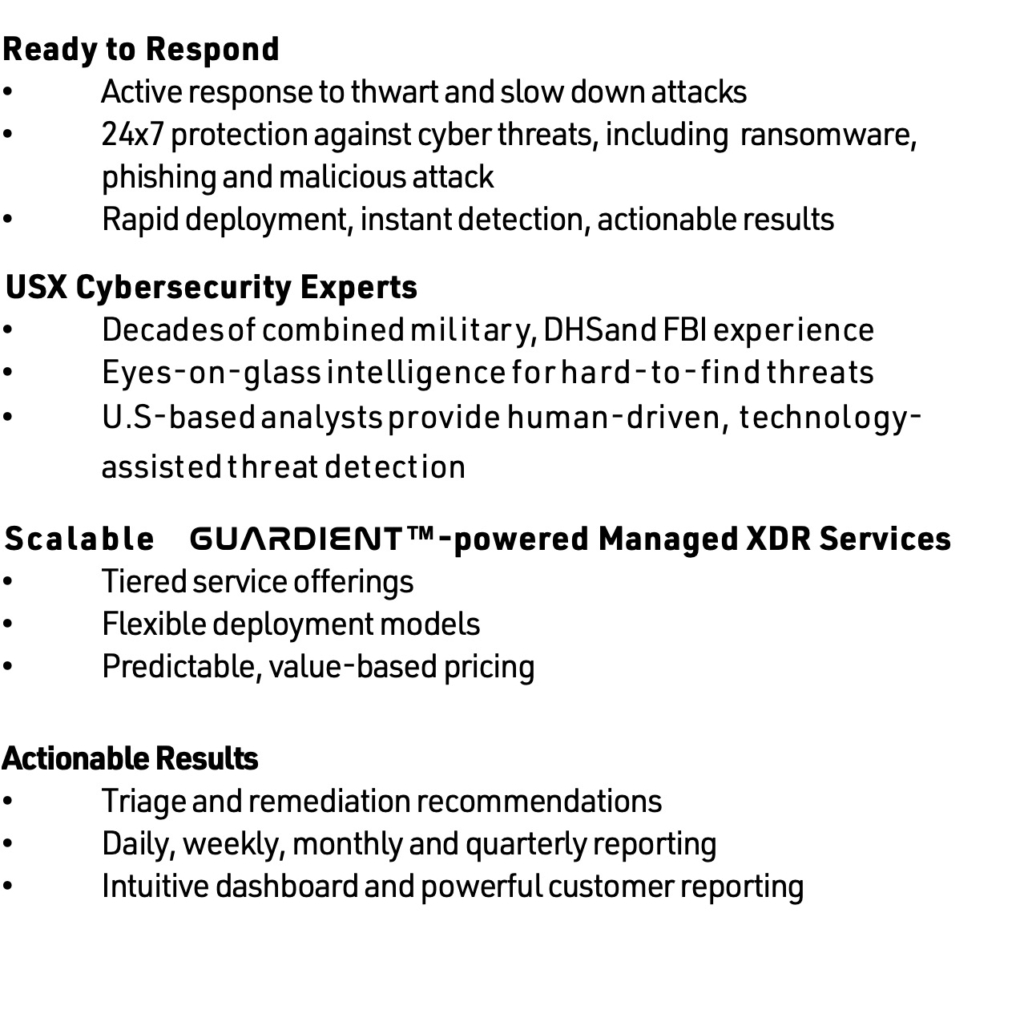 Right Protection, Right People, and Business Results
USX Cyber's Managed XDR detects, analyzes, and responds to bad actors that have infiltrated SBD. The combination of cutting edge technology via the GuardientTM XDR platform and the watchful eyes of USX Cyber analysts provides SBD with "human-led" technology solutions that provide the right protection for SBD. SBD always has access to the elite skill set of USX Cyber analysts including threat hunting, eyes-on-glass intelligence, and active response.
SBD has full visibility into its cyber operations through the GuardientTM Client Portal's Dynamic Defense Dashboard. Here, SBD can quickly see what is happening in the business, and what, if any, information they need to be aware of and/or any actions they need to take. And of course, USX Cyber's concierge service provides high-touch service to ensure all cyber needs are addressed as quickly as possible.
USX Cyber services go beyond the day to day protecting of SBD's business. USX Cyber established a road map to continuously improve SBD's security posture. Having baselined SBD's security posture stance upon activation of service, USX Cyber has since implemented several key process improvements with SBD. Specific improvements include implementing a data loss prevention (DLP) program to improve information security by protecting business information from data breaches; an asset management program enabling SBD to make sure they have tailored protection for each specific device throughout its entire lifecycle with the company; and account separation of duties in accordance with Federal compliance requirements.